Finance & Risk Management
---
Running a youth sports club is serious business, whether the club is a for-profit entity or a 501(3)c non-profit organization. As such, club leaders need to be careful stewards of club finances and manage risk wherever possible. Sprocket offers a number of efficient and innovative solutions for club leaders responsible for Finance, HR and Risk Management, including:

Dashboards & Reports
Sprocket's Dashboards provide club leaders with easy access to the most important metrics and information, with "drill-down" capability to see the detail as needed. Many technology vendors offer Dashboards, but the key is to provide Dashboards with the strategic answers you seek without making you work too hard for it! Book a Demo to see for yourself.
Financial Reporting for Cash & Accrual Clubs
Sprocket's financial reporting solutions support the ability to generate the reports you need to manage your finances – whether you use Cash or Accrual accounting. Many registration systems create unnecessary challenges for financial reporting by giving just a collection of "registration links." By contrast, Sprocket provides an organized way to classify your finances and to become more efficient in your financial operations. With Sprocket there's no need to wait for your QuickBooks reports to understand where you stand on revenues and cash flow!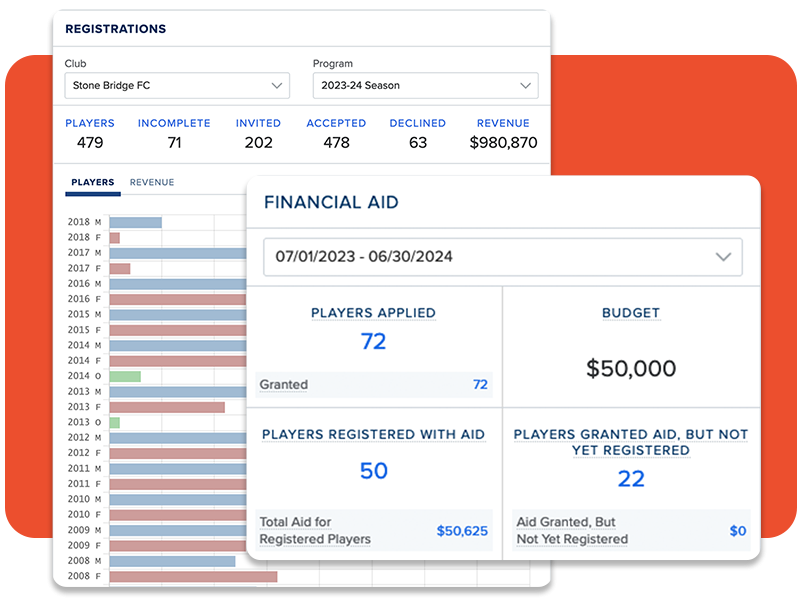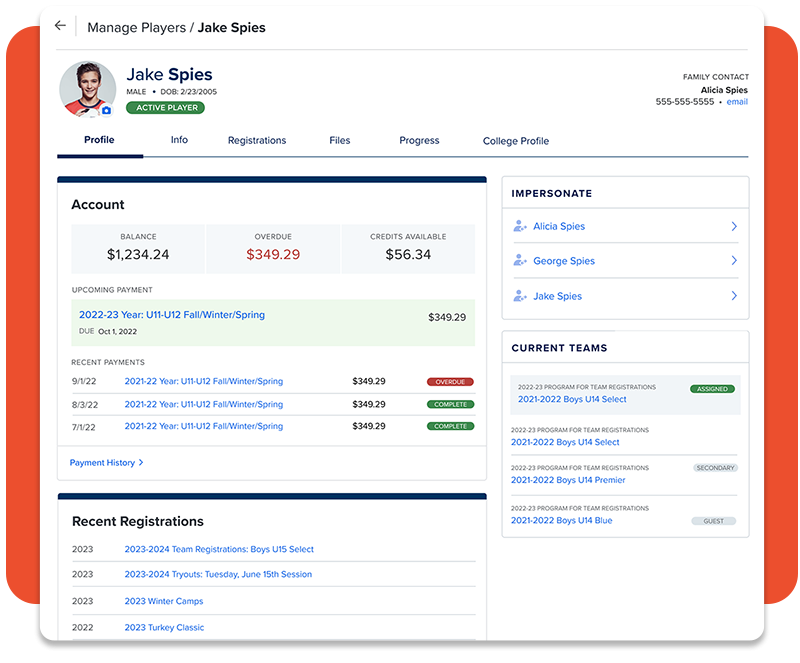 Financial Aid
Offer financial aid and scholarships to players and families that need it with the Sprocket Financial Aid module and keep track of the financial aid dollars used versus budget.

QuickBooks Integration
Every club needs to send revenue and payments data to QuickBooks or another financial system. Whether you are a Cash or Accrual club, we provide the data that your financial reporting system needs. With extensive experience managing club finances, the Sprocket team has spent years getting this right! The goal is to increase the accuracy and timeliness of your financial reports so that you can reduce the time and money you spend on financial reporting and operations.
Bad Debt
Significantly reduce your club's bad debt with Sprocket's automated alerts and emails to delinquent customers as well as enforcing "no pay, no play" registration rules.
Donations
Sprocket's integrated Donations module makes it easy for clubs to raise additional funds at the point of sale during the registration process or by setting up other fundraising campaigns directly on the club website.
Team Budgeting & Expense Management
Coming soon! - Sprocket is rolling out a new module to help clubs budget for various team expenses, provide team credit/debit cards where applicable, and enable easy tracking of team-based expenses.
Staff Onboarding & Profiles

Get new coaches up-and-running quickly and keep track of each coach's status. Sprocket's Onboarding module enables the efficient collection of certifications, licenses, resumes, and more.
Risk Management

Youth clubs face a number of risks in today's sports environment, ranging from financial risk to sexual misconduct and more. At a minimum, clubs need to have appropriate financial controls in place, be compliant with SafeSport certifications, secure appropriate insurance coverage, and have reporting and escalation policies in place for abuse. Sprocket offers a number of modules, services and partnerships to help clubs manage and mitigate risk. Click here to view our recent webinar on this topic or contact us to learn more.